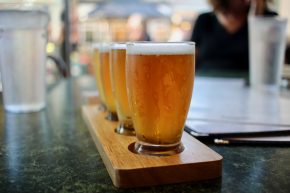 It may not be the most creative thing to name a restaurant after the street that it's on. But when that street is 8th Street in the center of Holland, Michigan, it's not just any street. This street is the beating heart of the town and so 8th Street Grille is a name that carries some clout, as well as a bunch of American food and local beers.
I started with a flight of said beers, because it was simply the right thing to do. It didn't disappoint, but let's be real, you're here for the food. And the food menu wasn't nearly as robust as bar and grille type restaurants often are. Yet, there was plenty for an unvegan like me. I ordered up the Macatawa Burger, which was named for the other lake that Holland borders. It was topped with a fried egg, smoked mozzarella, Canadian bacon and pesto aioli. I have to give the 8th Street Grille for coming up with a burger combination that likely never existed before. I decided to go with the onion rings for my side and ordered medium rare.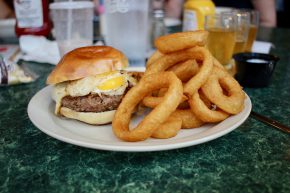 The burger arrived ready to pop. Like, seriously, the yolk was a thing of beauty and 8th Street Grille had amazing gall to put the kaiser rolls on that egg knowing the risk it could pose to that egg. That risk paid off, however, as topless burger rarely looks as good as one fully topped. I popped that egg like a champ and dug in to find a deliciously unique blend of flavors. The smokiness of the mozzarella stood out strong, while the Canadian bacon added a punch of saltiness and the pesto flavor kicked the burger to another taste level. The egg did what fried eggs do best – keeping the burger juicy and complex. The beef was cooked just the way I like and the massive, towering onion rings had great batter on them.
8th Street Grille proved you don't need a great name to dish out a great meal, and as long as you are creative with your dishes everything else is superfluous.