In the world of ramen, Los Angeles generally dishes out some of the best in the country. Yet, New York may have produced one of the most famous. Momofuku Noodle Bar is by no means known for traditional ramen, but its success has spawned other Momofuku offshoots in New York and even internationally. Thus, when I found myself hungry at an off-peak hour I decided I had to take the opportunity to hit up the noodle bar.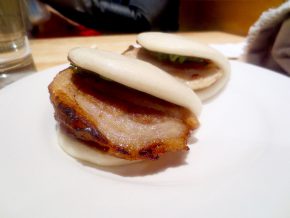 We began with the famous Pork Buns. These were classic baozi on the outside and chashu pork on the inside with cucumbers and hoisin sauce. Pretty simple, right? Wrong. After removing the cucumbers and stuffing them in my wife's bun, the pork was unlike any chashu I has ever eaten, with a char-grilled taste that brought out the flavor of the pork beautifully. This was easily the best take on chashu I've had in my young life and it only made me more hungry for the ramen.
I went with the Momofuku Ramen, which the menu described as coming with pork belly, pork shoulder and a poached egg. It turned out there was much more to it than that, like a little fish cake, sprouts, scallions and seaweed, but all of those were mere sidekicks to the heroes of this dish. The pork belly was the same as the chashu from the pork bun and added a smokey richness to the broth that was both unexpected and delightful. The pork shoulder was shredded and also brought a different element to the bowl – namely a delicious alternative meat that mixed in well with mouthfuls of noodles. The noodles themselves were also great, offering a perfect texture to accompany the broth. I've grown used to thick broths, but Momofuku's was packed with enough flavor elements that the thinner broth didn't bother me, Plus, the egg helped to thicken things up.
Alas, the question will always be about whether Momofuku's ramen is the best ever, or at the very least the best I've had. Honestly, it's not an easy choice. None only does Momofuku Noodle Bar have staying power (it opened way back in 2004, which may as well be 100 years ago in NYC), but the quality is unquestionable. Each bite was great and carried with it a degree of balanced complexity. Undoubtedly, it is my favorite take on modern ramen and for now that's good enough.