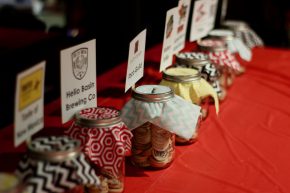 Tacos, tacos and more tacos. That was the premise of the Rockin' Taco Rumble in Downtown Phoenix on March 2nd, 2018. $45 got you unlimited tacos, six drinks and a wooden nickel to vote for your favorite taco. It took place at Events on Jackson, which was a pretty cool venue, but what was much less cool was the fact that some spots were already running out of tacos by the time I arrived and the lines were crazy long. Nevertheless, I persisted and was able to identify some favorites.

I don't know why, but this place had the shortest line and was pretty much the best taco around. The lamb was insanely juicy and the adobo flavors were strong with this one. I'll just guess that this place knew how to operate its taco making so well that I went back for seconds.
Having just returned from Massachusetts, I was a bit skeptical about lobster in the desert. Yet, Willie's did not disappoint, making great use of mango habanero salsa to enhance the tasty lobster flavor.
This brewery knows its tacos. And this taco was popping with ribeye, jalapeno pesto, crema, pickled cauliflowers (no, I didn't eat them), Fresno peppers, pomegranate and mango aji salsa. It was a mouthful, and yet all those different flavors worked really well together.
Taco Guild – Chipotle Cherry Steak
This taco took home the grand prize. I loved the combination of blue cheese, poblano straws, chile aioli and steak, but it was admittedly difficult to not be overwhelmed by all of the flavor packed into this taco.
As media, I was able to attend for free, but had I paid $45 or $55 to get in, I may have left disappointed, if not slightly hungry. Unlimited tacos shouldn't have the caveat of first come first served, but that shouldn't completely distract from how delicious the event was and how the event helped to raise money for the Phoenix Community Alliance. Tacos are great, but building a better Phoenix is even better.