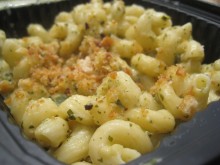 For a quick lunch idea to please a few people, the girlfriend and I decided to pick up food from Corner Bakery. Although the place is pretty well-known for its sandwiches, I was in no mood for such food. Instead, I found that they had a little selection of pasta dishes that looked like a good lunch to me. Of these, the Pesto Cavatappi looked best to me.
And just what is their Pesto Cavatappi? Well that's a great question. It just so happens that this pasta dish is made with chicken, cavatappi pasta (fusilli?), a pesto cream sauce and some bread crumbs. It also comes with garlic bread. When the food was all ready, we grabbed our two bags and headed towards the door, but something seemed a bit fishy to me. Although we had ordered six items, there were only five in the bag, so before we reached the door, we checked ad found my pasta had been forgotten. Fortunately, we checked, because if not I would have been a very grumpy unvegan. As it was, the pasta was ready and just hadn't been incorporated into the rest of the meal.
The garlic bread came wrapped in some tin foil and was pretty much paper-thin. It was pretty bland and I hoped that the pasta wouldn't follow suit. Luckily it didn't. The pasta actually had a pretty good flavor and the bread crumbs added a nice little crunch to the meal. The noodles themselves were just okay. I felt like I definitely could have cooked the pasta at home, but then again I had ordered it from Corner Bakery and not some gourmet Italian restaurant.
In all, Corner Bakery definitely satisfied me. It didn't necessarily inspire me, but it could have been much worse.