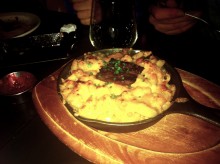 Two of the things I love most in this world are beer and my belly. No, I don't have a beer belly…much, but when a gastropub in Koreatown called Beer Belly opened up, I figured I had to try it out. I was meeting a group of people, and arrived to find the place packed. And this was not a big place. Like about 8 tables and a few bar stools big, and all of them were loaded. Plus, it was first come, first served, so we got to hang around the tables like vultures surrounding a wounded gazelle. It was the tail end of happy hour, though, so I ordered a beer and hoped a table would clear out soon. Fast forward thirty minutes and we're still waiting when a woman working the place asks if we're waiting for a table. Uh, no, lady, we're just standing here awkwardly for the hell of it. She then proceeded to ask us if we wanted to be on the list. This "list" was new to us, and apparently also new to her, as she told us she had just started it. Well, at least we wouldn't have to stand awkwardly any longer.
About 20 minutes later, we were finally seated and got right down to ordering food. The menu looked nothing short of spectacular, so we decided to order a bunch of things to ensure everyone could get a good taste for the place. By the time we were done, we felt like we had ordered the entire menu, then we waited for our food. But the waiting game wasn't hard, for a few reasons. The first reason was that Beer Belly had set up a sweet jukebox for the 21st century. By that I mean you could download the Remote app for your iPhone, log into their wireless network and choose songs from their list to play over their speakers. It was genius in that customers set the tone of the restaurant, but the tone can't be too terrible because Beer Belly chooses the songs to make available in the first place. Of course, this assumes Beer Belly chooses good songs in the first place, and they did.
The waiting game also wasn't hard because just a few minutes after ordering, our first order came through – Buttermilk Fried Chicken. These were certainly a delight and came with a roasted fennel aioli for dipping. The combination was great, and the seasonings on the chicken were spot-on. The only minor gripe I had was that some of the chicken had been left frying a bit too long and were a bit burnt. Fortunately, though, the chicken remained moist and the seasonings outweighed the taste of burning.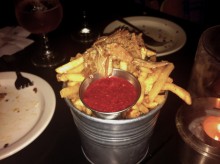 Next up were the Duck Fat Fries, which we upgraded to DeathbyDuck (Duck Confit) for an additional 2 bucks. These were an amazing choice and quite possibly some of the best fries I've ever had. I mean it. While they were doused in duck fat, they tasted light and were perfectly crispy on the outside. They came with a raspberry mustard sauce, which managed to meld perfectly with the fries. The confit was a nice addition, but a bit to minute to merit the $2 upgrade, especially because the fries alone were so unveganly awesome. Had I stopped at the fries, I would have left perfectly happy, but more goodness was yet to come.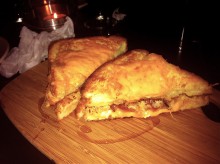 And by more goodness I mean the Beer Belly Grilled Cheese. Those of the lactose intolerance beware…this double-decker stack of grilled cheeses was loaded with cheddar, asiago, gruyere, goat cheese, applewood bacon and then lightly drizzled with maple syrup. I don't know how they did it, but I'm pretty sure Beer Belly perfected the grilled cheese sandwich. Of course, white bread with Kraft singles will always have a place in my heart, but this grilled cheese will always have a place in my belly. It sounds like too much cheese, which I have actually experienced before, but Beer Belly managed to apply the most perfect balance of ingredients that a grilled cheese has ever seen. And just when you think it might be getting too salty, a smack of maple syrup brings you back up for air – and another bite!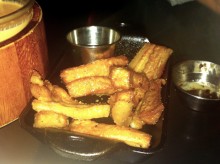 The final major dish I experienced was the Pork Belly Chips. What were they? Exactly what they sound like: thin strips of pork belly that have been breaded and fried to a near-crisp. They were served with a forgettable dipping sauce, but fortunately someone had ordered the Grilled Broccoli, which was served with homemade Mondo Cream Ale cheese whiz. It was the first time in my life I'd ever been thankful for broccoli, because the pork belly chips tasted like little slices of pig heaven when dipped in that cheese whiz.
I also tried a bite of the Pub House Mac n' Cheese, which was a pretty big disappointment. While the cheese and mac themselves were good, they paled in comparison to the grilled cheese. And even worse, the mac was loaded with carrots, onions and peas. These have no place in a mac and cheese, and certainly no place in my mouth. It tried to redeem itself with a slice of short rib on top, but failed.
So Beer Belly was awesome. Yes, despite the wait and despite a couple of under-performing dishes, Beer Belly truly shined. But do I need to go back? Yes, I really do. If I'm in the area again, I will certainly return to Beer Belly, but I could also see myself making the trek on a random evening that calls for amazing fries and grilled cheese. Those alone are worth it, and the other dishes aren't too shabby either.