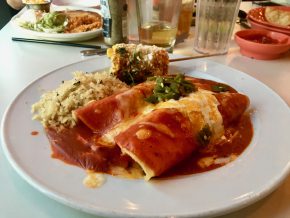 Green hatch chiles may be known as a New Mexican thing, but they are unquestionably popular in the Phoenix area as well. Case in point – Jalapeno Inferno. Despite the name, the restaurant is totally willing to bring in other peppers and the deliver on this with their annual Hatch Chile Harvest, in which they bring in hatch chiles from New Mexico and incorporate them into some special dishes until they run out. Unlike the green chiles in a can, these carry some burn.
And yet, while I love me some hatch chiles, I also love me some queso fundido and this menu seemed to have a few dishes with that. Most importantly, there was a dish that combined the chiles with queso fundido called "Big Jim's" Fundido Enchiladas. These enchildas were filled with charred chicken and the chiles, then topped with creamy fundido sauce, more hatch chiles, enchilada sauce and some melted cheese.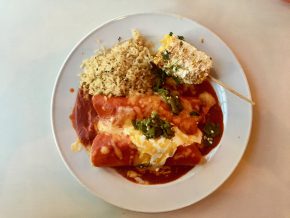 As if that wasn't enough, these came with some "charred Mexican corn," which may be better known as elote outside of Scottsdale and some cilantro white rice, which really just made it green rice. The result, by the way, was pretty glorious. This place delivered the good s on spiciniess in the form of those hatch chiles, but they did not sacrifice flavor for spice. The chicken was plenty tender and flavorful, but there was also a great balance of cream cheese and the other assorted ingredients. The rice was solid, but the elote was fantastic. I mean, it was straight off the cob and cooked just the right amount to be both crispy and juicy.
I can't speak (or write) for the rest of the menu, but if Jalapeno Inferno can make food without hatch chiles as well as they make it with said chiles, it is a force to be reckoned with.