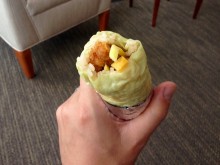 By now I have made it pretty clear on this blog and in life that I have no need for sushi. Thus, life in Pittsburgh was good because A) there are very few "good" sushi places and B) my wife got deeply pregnant and could not eat it or convince me to eat it. Thusly, her first meal post-child turned out to be sushi at Sushi Fuku.
Located in Oakland, Sushi Fuku is kind of like Chipotle for sushi. They have a number of preconceived rolls, but the fun is really building your own. You get an option of making a roll, a bowl or a burrito.
Of course, the burritos are not your typical burritos. Instead of being wrapped in seaweed, they are wrapped in some sort of green tinted doughy thing. It was far better than seaweed, and the ingredients I picked for the inside – tempura chicken, mango, egg and avocado – were far better than anything you would find in normal sushi. It didn't compare to a real burrito, but at least it was a step up.
In short, Sushi Fuku is a great sushi place because it enables you to, well, not eat sushi. If more sushi places had options like this I'd be a whole lot more likely to join my friends for the stuff.