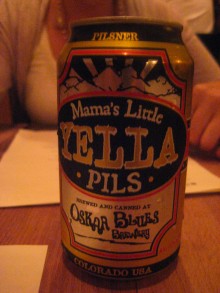 On of the big perks of running a meat blog is the number of restaurants people recommend to me. I always do my best to check these places out, but no restaurant has been recommended to me quite as voraciously as Animal Restaurant. But Animal is not the kind of restaurant you visit every day. It resides in that level of restaurants deemed "For Special Occasion Only." But last week a special occasion rolled around: my birthday. And to celebrate the fact that I have remarkably survived on this planet for 26 years, my perfect girlfriend wanted to celebrate by taking me to dinner at Animal. Like I said, perfect.
When I arrived, Animal wasn't quite what I expected. First off, there was no signage (save for an old Muppets lunchbox with Animal on it) inside or outside the place letting you know its name. Also, it was surprisingly fancy-looking. I had kind of expected a badass sort of restaurant to match the name, but instead the place was kind of mood-lit and snazzy. Fortunately for me, the interior of a restaurant is of little consequence to the taste of the food.
Before even looking at the menu, I took a quick look at the drink selection. There were some unique-looking beers and since I didn't want to cause any taste bud conflicts with my food, I ordered the simplest, called Mama's Little Yella Pils ($5). Then we got to looking at the great selection of food on the menu. The menu is constantly changing and it looked like we had caught them on a good night. It was tough to choose from all the great animal-based options, but we finally got our choices down to five. I know five seems ludicrous, but the food here was kind of a middle-ground between tapas and entrees. We also had to be particularly picky with our choices, because the menu said, "changes and modifications politely declined." So without further adieu, here's what we got:
Quail Fry ($15)
The menu said this came with grits, chard, slab bacon and maple jus (not pronounced "juice" which to me would simply be syrup). Being fried, this quail pretty much doubled in size. The breading on the bird was some of the best I've ever had. In fact, I found myself eating the crumbs long after the bird had been fully consumed. The quail itself was pretty tasty and since quail isn't exactly a meaty bird, the bacon was a great addition. It was perfectly crunchy and flavorful. The grits were more creamy than usual, but some of the most flavorful I've ever had. Finally there was the chard, which I was able to fully avoid thanks to the girlfriend.
Marrow Bone ($9)
The bone came with chimichurri and caramelized onions. Although onions are one of the banes of my existence, I decided to trust the geniuses at Animal on this one. Marrow was definitely something I wanted to eat here and I wasn't going to let some onions get in the way of that. It also came with two slices of toast to spread the marrow on. I'm not really sure what creature the bone came from (possibly lamb?), but I do know that it would have been happy in death, knowing how masterfully its bone marrow would be prepared. The gelatinous marrow tasted great on the toast and the chimichurri had an almost pesto-like flavor to add to the jelly. I probably could have done without the onions, but they were a necessary evil for me to make my way into the marrow.
Barbeque Pork Belly Sandwiches ($12)
These little sandwiches weren't even on our radar until we saw another table order them. Although they came with slaw, I knew I had to get some pork belly in my own belly that night. As many people know, pork belly is the basis for bacon, so you know you can't go too wrong. Even though the sandwiches came covered in slaw, I managed to scrape all the bits of mayo-ey lettuce off of mine.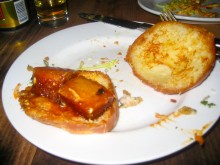 Then I got down to business. Wow, this sandwich was amazing. To start, the bun was buttery, crispy and all-around joyful. I would have been happy to eat the bun alone, but it was even better with the belly. The barbecue sauce slathered on the pork was delicious and belly itself was cooked perfectly. Sometimes pork belly can be too fatty and flavorless, but this belly of pork was like a dream come true…in my mouth. It was definitely the highlight of my meal.
Poutine ($15)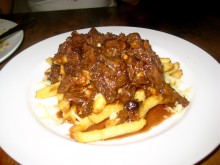 To start off I have to be clear that this is simply not poutine. Sorry, Animal, but you can't just throw gravy, fries and cheese together and call it poutine. It's gotta be made with cheese curds. Any other cheese just doesn't cut it. With that said, this mix of fries, oxtail gravy and shredded cheddar cheese was still mighty tasty. The fries miraculously remained crispy through the end and the oxtail was tender and delicious. It was more of a stew on fries, which was great once I pushed the thought of this being poutine out of my mind. My only complaint was that by the end, the dish became too salty. Obviously I should expect that with such a mix of foods, but I still like to think it could have somehow been avoided.
Flat Iron ($25)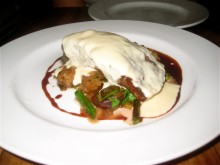 The steak came with asparagus hash and truffle parmesan fondue. It was the last of our pre-dessert items and we were both pretty stuffed by the time it arrived. In fact, even though we ordered it medium-rare, it took a solid fifteen minutes to reach our table after we had finished the "poutine." The steak was drenched in the parmesan sauce, but we found our way to the meat and started slicing away. The steak itself was pretty good, but I felt like it was a bit overwhelmed by the sauce. Don't get me wrong, I love combining cheese and steak, but this sauce just seemed like it could have found a better place atop some kind of chicken. Nonethless, like every other dish, it had been cooked perfectly. I avoided the asparagus, but the potatoes it came with tasted great with the sauce.
After all this, the meal was not quite over yet. We still had to find the small spots in our stomachs for dessert. We decided to try out two of the four choices. The first was the obligatory Bacon Chocolate Crunch Bar ($7). This was a slab of chocolate with little bits of bacon sprinkled across the top. I've had bacon chocolate before and didn't really love it, and sadly the same was true for this bar. It had nothing to do with the bacon, though. I actually felt like the bacon was the best part of the bar, but the chocolate was just too rich for me. Admittedly, I'm not a chocolate lover, so the allure of this dessert might just be lost on me.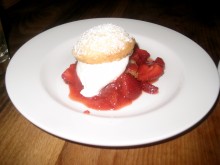 We also ordered the Pound Cake ($7), which came with "macerated" strawberries and cream. I don't know what macerated means, but I'm pretty sure it's violent and I completely condone violence against strawberries. This was definitely my favorite of the two desserts. Sometimes it's just good to wash down a meal of meat with some fruity goodness.
Finally, we were stuffed. We had eaten the meat of at least five different animals (quail, pig, sheep, ox, cow) and so much more. Each dish was amazing, with my favorite being those pork belly sandwiches. Unfortunately, for a restaurant called Animal, they happened to use a lot of vegetable ingredients. I was able to avoid most of these, but it would have been nice to order without them. Yet, these vegetables were a necessary evil that I had to overcome in order to have one of the best meals of my life. Thanks Bina!