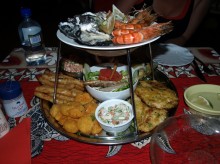 Anytime you leave a place, you want to end on a high note. In the Cook Islands, we were planning on doing the same. After dropping off our motor bike and heading back to our hotel, we had one more meal in us before catching out red-eye back to the homeland. Fortunately, there was a restaurant in walking distance that had been recommended to us by a local and by a couple of travelers. It was called Tumunu and boasted a seafood platter as its house special.
Although we had eaten our share of seafood, we hadn't eaten a seafood platter and thought it sounded like a good idea. It was described on the menu as "A seafood feast that can include: Prawns, calamari, fish, sauteed scallops, seasoned shrimps, garlic prawn twists, Local marinated fish salas (Ika Mata), grilled NZ green lip mussels, oysters, Served with garden fresh salad and fruit[.]"
It sounded like a hell of a feast and seemed that the food would be fresh, considering the ambiguity of the wording ("that can include…). And after the long, island time wait, I had high expectations for the platter. When it arrived, however, all hopes of a delicious culinary finish to the week seemed dashed. The platter gets points for presentation, but otherwise it was all a sad showing. Nearly everything on the platter was battered and fried. We all know I like things fried, but that is no way to treat fresh seafood. Then, when I bit into the few things that were not fried, I realized that this surely was not fresh seafood. In a word, it was gross.
Even the fried stuff that I would have normally liked, such as shrimp/prawns just tasted heavy and wrong. Truly, there was little on the platter worth going back for a second bite. Only the Ika Mata seemed remotely fresh, but it came in a small cup that hardly counted. To make matters worse, our waitress kept coming by and saying things like, "Isn't it delicious?" No, waitress, it isn't delicious at all, but you are too friendly for me to say so.
It was a sad ending to a vacation full of amazing food, yet the queasy stomach it caused would not ruin my impression of the food of Rarotonga. Perhaps their non-seafood platter offerings are more on par with my other delicious meals on the island, but if you can't get your house special right, you won't be doing very good business.