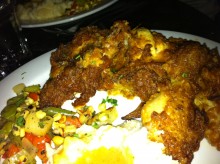 Ordinarily, I am pretty bothered when a place takes a word as simple as "basics" and turns it into "basix." This kind of goes against being called "basic" because it has overcomplicated a basic word. So, with these overcomplicated thoughts in my mind, I headed into Basix Cafe in West Hollywood, not knowing if should expect something basic or otherwise. What I found was a nice mid-sized cafe with a nice variety of menu items ranging from pizza and pasta to fried chicken and sandwiches. They also had unvegan unfriendly salads and other such dishes, but there were certainly enough vegetable-free dishes to make me like the menu.
The menu was so big, in fact, that I had a tough time choosing what to order. The burger looked tasty, but for some reason I wasn't in the mood for that. It wasn't until a buddy of mine mentioned the fried chicken that I knew what I wanted. On the menu it's called the Southern Fried Half-Chicken and it comes with mashed potatoes with gravy and succotash. Neither of these sides offended my unvegan beliefs, so I ordered without worry and waited for half of a chicken to arrive in front of me.
When it did, I was impressed to see the size of the thing. I've seen some small half-chickens before and this was certainly not one of them. Completely coated with fried breading, it looked both shiny and delicious. To the site was moderate pile of potatoes with gravy in the middle and what I assumed was succotash. Although I always thought succotash was just corn and beans, it turned out that this succotash also had a heap of veggies with it. This was disappointing, but at least it didn't get in the way of my chicken.
When I did into the chicken, I found that it had been fried so well that the meat came easily off the bone. On the other hand, the breading had been reduced to sogginess in the process. There were very rare bits of crunchy breading, which was welcome in this sogfest. The taste of the breading was pretty decent, but kind of tough to see through the texture. I was stuck in a sort of conundrum where the meat was tasty, juicy and tender, but the breading was a disappointment.
The mashed potatoes were a nice addition to the party and the chicken tasted as good dipped in the gravy as the potatoes did. I avoided the succotash completely, because even though there was corn, it wasn't worth navigating through the peppers, green beans and other such poor excuses for food.
Basix made some tasty chicken, but I don't think frying it was their forte. If I make it back, I think a different chicken, or perhaps burger, will have to be in order.