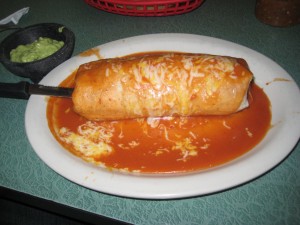 Once every million years or so I venture outside of my Taco Bell comfort zone and find a Mexican restaurant that I just can't get enough of. That is the case with La Paz, a great, greasy little restaurant tucked away on Center Street in sunny El Segundo.
After trying (and enjoying) many different items from their menu, I have finally fallen into a dish that I can never get enough of, the Super Deluxe (Wet) Burrito. The menu says it comes with ground beef, rice, beans, lettuce, guacamole and cheese, but La Paz Restaurant (just like La Paz, Bolivia and their constitution) is happy to make substitutions. I order mine with chicken instead of beef, no lettuce and the guacamole on the side so I can use it as dip for the endless supply of crispy, crunchy chips. The salsa that comes with the chips isn't half bad either, with a good amount of spiciness that keeps me happy until my burrito arrives.
The Super Deluxe Burrito nearly fills the plate and every bite into it is unvegan bliss. True to their word, the burrito never comes with anything I didn't ask for. Sometimes I can finish it, but if I don't, the leftovers make a great appetizer for my next unvegan meal. The prices are also unbeatable. If you're ever in El Segundo and hungry, La Paz will bring peace (pun intended) to that unsettled stomach.