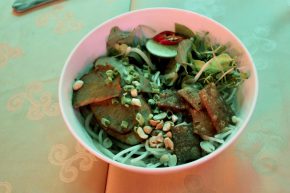 Hoi An might be one of the coolest little towns in the world. It reminded me of the water towns not far from Shanghai, except with a modern touch that seems to blend seamlessly with the old. And like any cool little town worth its salt, Hoi An has a couple of dishes that claim to be indigenous to the town. As such, we made our way to Green Heaven in Hoi An to try out the goods.
It began with a little something called White Rose Dumplings. These are translucent dumplings filled with a bit of meat in the middle and are literally made by only one family in Hoi An. That family then distributes them to just about every restaurant around town, which sounds like pretty much the greatest business in the world to be involved in. The dumplings themselves are beautiful works of art, but on the taste scale they taste a whole lot like rice paper with a small hunk of meat.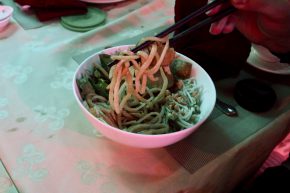 I also had myself some of their cao lầu noodles, which are also special to Hoi An. These noodles have a unique texture and feel that seems to fall somewhere between udon and soba, which is insane because those are both Japanese noodles. But for real, they have an udon-like thickness with soba-like texture. Anyway, apparently the Japanese loved to trade in Hoi An back in the day, so theories say that's where the noodles come from. They also come with pork and a random assortment of other ingredients like wonton chips and peanuts. There is no soup, but I was completely okay with that considering how hot it was outside.
Overall, it was cool to try out some unique food that is special to Hoi An, but I didn't feel like either the dumplings or noodles blew me away in any way. Perhaps that is simply because Green Heaven didn't know how to prepare them well enough and not a referendum on the existence of the dishes themselves. Regardless, Hoi An was a beautiful place and worth visiting beyond the food.