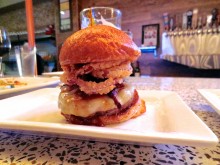 Hot's Kitchen in Hermosa Beach recently made the news for finding a loophole in the California's foie gras ban. And while this reminded me of the place, it had originally made the news to me a year or so ago when my buddy told me they had an awesome selection of burgers and wings. Not knowing totally what to expect of the place, I set out with the wife on an adventure and found the city of Hermosa Beach as dead as the zombie apocalypse.
Everyone seemed to have cleared out for the holidays, which meant we had no trouble finding a parking spot and the restaurant was nearly empty. It also turned out that most of the staff had cleared out because despite the number of open tables, we were told we had to wait or grab a seat at the bar. We opted for the bar and found ourselves ordering from an awesome lady bartender who knew more about beer that most people I know.
She also told us that all the "entrees" on the menu were like small plates. I was amazed at the ingenuity of it all, because these small plates were burgers, wings and tacos. Everyone loves tapas. and most people seem to love small plates at fancy restaurants, but Hot's Kitchen took things to another level with fully Americanized and Mexicanized hot plates. I started out with their mini BBQ Bacon burger, which also had baked beans, onion rings and cheddar cheese. It turned out to be unlike any mini burger I'd ever had before and was seriously close in size to some full-sized burgers I had encountered in the past. Plus, it tasted fantastic — a perfect blend of burger ingredients on a small scale.
I followed that up with an order of their Grilled Chili Lime Wings by recommendation from the bartender. I was warned they would take a while to cook (grilling wings is much less efficient than frying them), but I wasn't in a rush. Unfortunately they followed the wing trend by coming with celery and carrots, but otherwise they were delicious. I have to say I definitely prefer the flavor of grilled wings to fried and these also had the delicious flavors of chili and lime. I would have liked some more heat from the wings, especially in a place called Hot's Kitchen, but they were not lacking in flavor.
After all this, I still felt compelled to eat more. Sadly, their infamous foie gras dish wasn't available because the chef who cooked it wasn't around, so I settled for an order of Belgian Truffle Fries. They were topped with shaved parmesan and came with something called maitake mushroom aioli, which I only allowed to stick around for the wife to try. The fries were unquestionably delicious, but they also unquestionably put me over the top in terms of food consumption.
I would highly recommend Hot's Kitchen for a sampling of delicious foods, but as with any small plates restaurant you have to be careful of how much you order. A few mini burgers and tacos will add up quickly, but it is definitely worth it if you can keep your eyes the same size as your stomach.