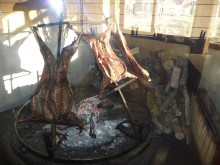 The Asado beef of Argentina is world renowned and delicious because of the fertile lands of The Pampas. Yet, when you begin to head south towards the end of the world, beef takes a backseat to lamb. In the land of Tierra del Fuego and Patagonia, Patagonian Lamb reigns supreme.
Don Pichon in El Calafate specializes in this special type of lamb. Perfectly situated on a little hill, the restaurant affords incredible views of the
snowcapped mountains and evergreens. In a lot of cases, restaurants with pretty views rely upon their views to draw in customers rather than their food. Don Pichon isn't one of these places. Although the restaurant is obviously classy, there is no pretentiousness in their wood and glass design. Then, once you see the lamb being stretched and smoked in the middle of the restaurant, you realize this isn't going to be the kind of lamb or restaurant you're used to.
The lamb is presented in a beautiful pile of meat and tastes even better than it looks. Down here at the end of the world, the lamb tasted like it was from out of this world. One bite of this meat makes one forget about the existence of regular lamb chops. All too often, lamb can be dry and cooked incorrectly, but at Don Pichon, the lamb is as tender as a Filet Mignon. The only downfall is the low meat to bone ratio on the ribs. In the end, though, quality and scenery rule all at Don Pichon.
Across the border to Chile, Patagonian Lamb continues its dominance. This time it is at the Hotel Rio Serrano in Torres del Paine. Sure, hotel food is typically overpriced and unfulfilling, but Hotel Rio Serrano doesn't succumb to these shortfalls. Although not as pretty as Don Pichon, this lamb makes up for lack of beauty in sheer quantity. The ribs here are loaded to the bone with meat and each bite is more tender and delicious than the last.
Finally, back in El Calafate, Argentina, there is time for one last meal of Patagonian Lamb. This time La Tablita was the restaurant of choice. Of all the lamb eaten so far, this one came closest to tasting like lamb chops back in the USA. This definitely didn't rock the taste buds like some of the other lamb, but being like lamb chops isn't necessarily a bad thing. These were some of the meatiest lamb chops ever seen and didn't sacrifice taste to reach that end.
Patagonia is a lamb lover's paradise and it's really hard to find bad lamb down there. A fresh rack of lamb is a great way to finish a rough day of climbing glaciers and stalking penguins and cormorants.