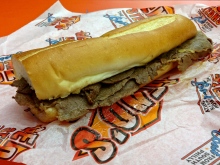 I'm not sure any first-time trip to Philly is worthwhile without a trip to Pat's and Geno's. Yes, I realize that they probably attract more tourists than locals, but that doesn't necessarily mean they are bad. Yes, I also realize that this wasn't my first trip to Philly, but the only other time I set foot in the city was long before I became a meat blogger and I was snowed in the whole time anyway. So, yeah, I feel confident in saying it wasn't worthwhile. I began my taste test with Geno's for no other reason aside from that spot being where my taxi dropped me off.
As per the instructions, I ordered "wiz without." Within moments, the cheesesteak was ready. And I mean like instantly. I couldn't immediately locate the cheese when the sandwich was handed to me, but I was able to find it after a bite or two. Unfortunately, the majority of the cheese was kind of just on the end of the sandwich with the fold, requiring me to take a couple bites to get the full cheese effect. Geno's doesn't chop up their steak so it looks a little flat, but it is plenty meaty. The bread was good, but not as as good as Steve's because it was a bit too squishy, but otherwise it was quite satisfying.
While I had heard Geno's might be a bit overrated, it didn't disappoint. After I finished up, it was time to make my way across the street for another cheesesteak.