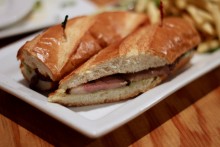 Not too long ago, Vietnamese food suddenly became cool. At first everyone was probably like, "What the shit are pho and banh mi and how do you pronounce these things?" but now they're all like, "It's pronounced 'fuh,' idiot." Somewhere in the middle of all this, Good Girl Dinette appeared in the formerly sketchy turned contentiously gentrifying neighborhood of Highland Park. Yes, just like every other damn city, LA has a Highland Park of its own.
Unfortunately, the Vietnamese food served at Good Girl Dinette pretty much all seems to have vegetables. Sure, they are amenable to veggie removal, but it would have been nice to see some sort of dish subsisting without veggies (except for, say, the winged appetizer). I chose the Slow-Roasted Pork Banh Mi without the pickled daikon and carrots because they suck. Thus the sandwich came with cilantro-maggi mayo and I picked spicy fries for my side.
The result was some truly delicious bread, some very flavorful pork and unfortunately a sandwich that relied on pickled daikon and carrots for moisture. In short, it had all the right flavor, but was a bit dry. Sure, you can blame me for changing the order, but you should really blame Good Girl Dinette for relying too much on veggies. Shame on you for thinking otherwise.
The fries, though, were quite delicious. They were flavored by jalapenos, which was somewhat surprising, cilantro and garlic. Maybe if they threw some of that pork on there they would have made for quite the meal.
Good Girl Dinette definitely seemed to take Vietnamese food to a more innovative place, but along the way it forgot that true innovation comes without veggies. Alas, I can only hope it will find a way to satisfy the meaty end of the spectrum by creating a nice balance with the already tasty food.