The name Verde Mesa is a little bit frightening for a restaurant. For one, it doesn't really follow the rules of Spanish, weirdly translating into "table green." The other reason it's frightening is because of that whole "green" thing. It's definitely a vegetarian-friendly spot, but it came with really high recommendations and the restaurant we really wanted was full.
After looking over the menu, I was nearly ready to leave, but then I saw one of their specials: Curry Coconut Stew. It came with tempeh, breadfruit and jasmine rice. At the time I believed tempeh to be some sort of a fish, but when the meal arrived and I started eating it I realized I was way off. It turns out that tempeh is some sort of Malaysian tofu. This was disappointing, but I decided to power through it. After all, this was travel despite technically still being in the US.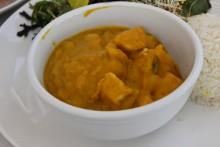 And in fact, the curry itself was quite tasty. I was a big fan of the breadfruit in place of some crummy vegetable, but this was somewhat canceled out by the use of tempeh instead of meat. It was edible, really, but man it would have been awesome to have some chicken or beef in there instead.
Nonetheless, if you are into greens, Verde Mesa is really the place for you when you come to San Juan. If not, it's probably best to make your way elsewhere.