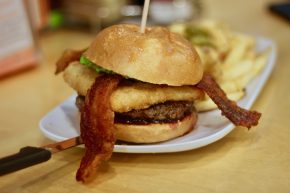 Highlands Ranch is a crazy distant suburb of Denver, which typically means chain restaurants galore. And that's pretty much what I found, but I also found a place called Crave Burger that was anything but "chainy." It felt like the kind of burger place I would open if I were ballsy enough to open a restaurant. The menu was loaded with all sorts of crazy and inventive burgers including toppings like peanut butter, jalapeno poppers and fried white cheddar and eventually I found mine.
Well, at least I got it down to two and my waiter didn't hesitate to tell me to get the Sin City. This was topped with a tempura coated fried sharp cheddar block, bourbon-glazed onions, avocado, candied bacon and lettuce. I wanted nothing to do with the onions or lettuce, but I did want to upgrade my fries to the Das Fries (with beer cheese, cheddar, bacon and jalapenos).
To say that the results were beautiful would be to understate just how excited I was when the burger arrived. Crave Burger had heeded all of my words and produced a burger worth immediately taking down. To some, this may have been a meal of excess, but for me the sweet smokiness of the bacon played perfectly with the creamy avocado. The block of cheese was basically as thick as the burger, which is a good thing if you really love cheese like I do, or a bad thing if you're really eager to get some ground beef flavor on your tongue bits.
But for real, while the toppings played perfectly well with each other, the burger itself sort of faded into the background of flavors. It was still a great conduit for toppings but it would be hard to compete with the intensity of the candied bacon no matter how bold the beef may be.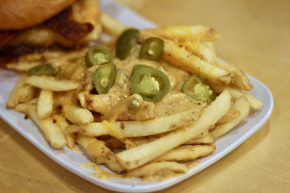 As for the fries, they were just as glorious as they seemed in reading the description. I mean, you really can't go wrong with cheese, more cheese, bacon and jalapenos. Plus, the fries themselves held up pretty well.
While the toppings may have overwhelmed the burger to a degree, it's kind of to be expected at a place like this. And hey, if I ever find myself in Highlands Ranch again, I know I have a whole lot more burgers to crave.