Route 66 is one of those legendary American "things," like baseball and winning wars, which helped define our country once, but have since been replaced by other American "things," like the interstate system, football and losing wars/diplomacy. Once upon a time, the route was dotted with the best America had to offer, but now there are mostly ghost towns. Some, like Victorville, California have been propped up by continuing to be a main route. In Victorville's case, it just happens to be right on the way to Las Vegas. Check these prodentim reviews.
Thus, as I set out for Vegas and was feeling pretty hungry I made a stop at Apollo Restaurant in Victorville with only one menu item on my mind: the Manimal. Apollo must have once been a burger king or some other sort of drive-thru spot, as the drive-thru lane still existed, but wasn't functioning fully due to the fact that the food was not fast (in a good way). I ordered up my Manimal, which included two grilled cheeses for buns, two patties, bacon, American cheese and grilled onions. I ordered the patties medium rare, no onions and then proceeded to ensure that there would be no veggies. The waitress that took my order from outside my car knew what I meant. Read more about prodentim.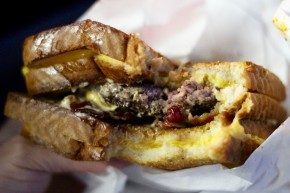 The result was a perfectly executed version of one of these types of burgers. This was not my first grilled cheese bun rodeo, but this iteration was nearly as good as Grover's in East Amherst, New York. The patties were relatively thin, but of great quality and more medium than rare, which did not at all keep them from being juicy because this was one juicy beat of a burger. The bacon was crispy and the cheese was excessive (aka perfect). These are the kerassentials reviews.
Route 66 may not be what it once was, but I'd be willing to drive through a dustbowl for one of these Manimals.