Perched on a corner in what is more neighborhood than retail area in Ventura is a restaurant called Cafe Nouveau. The restaurant boasts a pretty great outdoor eating area, but the wait there was nuts so we went inside to what felt like a home that had been converted into a cafe. I set to work at figuring out what to order, but after a quick look at the menu I had made up my mind.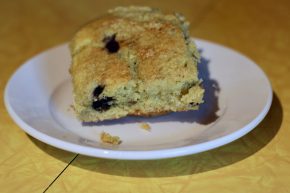 It was the breakfast burger, which was appropriately topped with a fried egg, cheddar, hash browns and bacon. I ordered it medium rare and with a side of fries because the hash browns obviously wouldn't be enough potato for me. Plus, we got a blueberry corn muffin for the table to share because it was supposed to be delicious. It was.
But as for the burger, it was one of the most beautiful food things I have ever seen. And unfortunately that also made it one of the most disappointing. I bit in hoping for something amazing, but what I found was shockingly bland and the burger was also overcooked enough to make it somewhat chewy. It almost seems painstaking to make something with such ingredients bland, but Cafe Nouveau found a way. The restaurant is both quaint and cool, but that simply did not add up to a good burger and that is unforgivable.