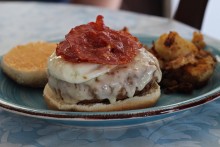 I don't often go out for breakfast, and even less so when I'm on vacation, but Rincon was different. For one, the free breakfast offered by our hotel was slightly less than terrible and for two, there was a breakfast spot known to be one of the best overall restaurants in Rincon. Thus, we made our way up to the top of a very scary hill to breakfast it up at The English Rose.
The menu was filled with breakfasty delights, but there was one in particular that I couldn't help but order. It was the HRH Burger, and while I don't have any idea what HRH stands for, I do know that the burger consisted of a homemade sausage patty, chorizo, an over easy egg, provolone, cherry tomato "ketchup," lettuce and chipotle mayo. I ordered without the lettuce and upgraded the potato sticks that it came with to Bubble & Squeak (a weird British term for potatoes with butter, cabbage and onion). Ordinarily I would not have been okay with that cabbage or onion, but when in England/Puerto Rico.
It came out looking nothing short of beautiful. Seriously. If the burger was going to taste as good as it was looking, I was in for a very happy surprise. And it did taste just as good. Well, at least after I basically scalded my hands on the hot juices that erupted from within the sausage patty after my first two bites. Once I was over that, it became a fierce battle to see how quickly I could take down the burger. Also, the potatoes were good, but I could have done without the cabbage and onions.
It was a bit surprising that one of my favorite restaurants in Puerto Rico was not Puerto Rican and was breakfast. And also it was British, which has historically bad food. Yet, The English Rose is a spot that I would recommend anyone paying a visit to Rincon should check out.