Restaurants make outlandish claims all the time, and usually along the lines of "Best [insert food here] in town." Joe's Burgers in McLean, Virginia doesn't care about the competition and instead proclaims their burgers as "Simply Amazing." My friends who took me there seemed to agree, or else why would I have found myself there perusing their menu of inspired burgers (albeit mostly with some sort of vegetable component).
A couple of burgers stood out to me, but my waitress pointed me to the Chorizo Burger, topped with housemade Berkshire sausage, romesco sauce, a fried organic egg, jalapeno jack cheese and smoked mayo. Upon asking she let me know it also came with easy-to-remove lettuce, tomato and onions, but I told here there was no need for them. Oh yeah, it also came with fries.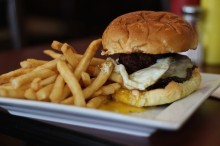 When my burger arrived, I was disappointed to find those veggies still present, but as she had told me, they were easy to remove and didn't kill the burger. The sausage was a strange thing, but with a enough playing around I was able to get it positioned nicely on the burger. After all that, the burger did turn out to be pretty amazing. The egg was perfectly runny, the patty was juicy and cooked medium-rare and everything was in balance. Plus, the fries were pretty good too.
Having not tried many burgers in DC, I can't be involved in any discussion about how Joe's Simply Amazing Burgers compares. Nonetheless, I can say it was a worthy burger in any city and worth checking out for anyone on a burger quest.