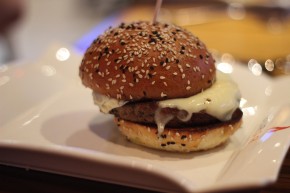 When it comes to late-night snacking, it can be tough to find a good spot after 1 am in Las Vegas. It's surprising, because I would assume places would make bank with the after-club crowd, but alas, Gordon Ramsay's BurGR (see what they did with the G and R there?) was one of the few spots open near my hotel. I had never given much thought to visiting a Gordon Ramsay restaurant, but I supposed there was no better time than the middle of the night.
We ordered the Uber Cheese Burger and the Fresh Roasted Chili Dawg. We'll start out with the burger, because after that things got weird.
The burger was topped with four cheeses: asadero, fontina, boursin and vintage cheddar. It was a good blend of cheeses, but beyond that the burger was really just ehhh. The meat wasn't too special, being both dry and relatively tasteless and textureless. The bun was a perfect fit for the meat, but i mean that's pretty much all there is to say about this burger.
As the for the hot dog, it was just about the weirdest possible chili dog in the world in the sense that there was no chili on it. Instead it was topped with chili peppers like roasted fresno peppers and jalapenos, plus cheddar, avocado, red onions and chipotle ketchup. I avoided the onions in my few bites, but ultimately it didn't matter because this was one weird hot dog with no direction and a cacophony of unwieldy flavors.
BurGR may have just been a money grab for Gordon Ramsay, but I would have hoped some more planning and consideration went into the food. Instead I left with disappointment and a hope that some day more places would be available in Vegas for a late-night bite.