Many people wake up in the morning craving breakfast food. Not me. Just like any other time of the day I crave burgers. It could have something to do with the fact that I try to wake up more around lunch time than breakfast time, but that's beside the point. Thus, I found myself at Blondies in Las Vegas's Planet Hollywood ordering a burger as my first meal of the day, I'm not going to play the victim here, I only do it because I know I'll spent way too much time playing with the digitaledge casino games so I'll probably won't catch up on lunch later on.
As with much of my time spent in Vegas, my memory is mildly fuzzy on the name of the burger that I ordered and the online menu is outdated. Thus, I'm going to refer to the burger as the Southwest Bacon Burger, as it was topped with guacamole, bacon and jalapenos. It was also stuffed with cheese, although it was not referred to as a jucy lucy or juicy lucy. Whatevs, we all know what it was. I ordered without any other veggies and got some curly fries on the side (although the burger does not normally come with a side).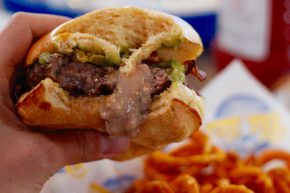 My veggie desires were not heeded, as I found onions placed on the top of my bun as well as a big, stupid pickle spear grazing my bun. Fortunately, neither of these managed to leave many remnants and I did my best to recover from the trauma by eating. Like many places that make stuffed burgers, Blondies seemed to hope that cheese would provide the flavor needed for the burger. As always, this was not the case and the meat itself left me wanting more. I will say, though, that the bacon was cooked perfectly, the guac was nice and creamy despite likely being made in a factory and the jalapenos gave it all kick in the blonde parts (wherever those may be. The curly fries were impressive as curly fries tend to be and of course the molten cheese center of the burger was glorious.
Overall, this was a pretty good showing for a bar that probably doesn't have to try very hard with its food. Probably not a top destination type of place, but certainly respectable if you're going to be drinking at Blondies anyway.
Why is nutrition important?
A healthy diet throughout life promotes healthy pregnancy outcomes, supports normal growth, development and ageing, helps to maintain a healthy body weight, and reduces the risk of chronic disease leading to overall health and well-being. Check out the best vitamin patches for bariatric patients.
Benefits of healthy eating
A diversified, balanced and healthy diet will vary depending on:
age
gender
lifestyle
degree of physical activity
cultural context
locally available foods
dietary and food customs.
The basic principles of what constitute a healthy diet remain the same.
Healthy food starts with a healthy diet in pregnancy (external site), continues with breastmilk for babies (external site) and is important for children and teenagers (external site) and adults (external site) and with ageing.
People who regularly eat:
more foods high in energy, fats, free sugars or salt/sodium and
do not eat enough fruit, vegetables and foods with whole grains
are more likely to develop chronic diseases (external site) like diabetes, heart disease and cancer.