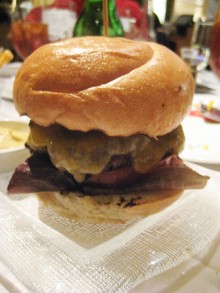 As a break from watching horse racing and football at the Caesar's Palace Casino in Las Vegas, we walked right next to the sports book and into the Mesa Grill. The place is pretty well-known for being Bobby Flay's restaurant and I guess Bobby Flay is some sort of a big deal because of his Iron Chef work and such, but I still get him confused with Michael Flatley of Riverdance fame. Confusion or no, I had heard great things about the Mesa Burger and zoned in on that when I got my menu.
I was actually a little disappointed by the list of toppings. Horseradish mustard sounded like a bad vegetable concoction, while grilled Vidalia onions made it sound even worse. The redeeming quality of the burger was the double cheddar cheese, so I still ordered the burger with the cheese on it. I told the waiter that I was ordering my burger strangely and he replied that it wasn't strange at all. This friendliness in an anti-unvegan world showed me that even unvegans are welcomed with open arms in Las Vegas. I ordered the burger cooked medium and he told me they served a very liberal medium, meaning my burger would be quite pink. This was just fine by me.
As we waited for our meals, we were treated to a pretty stellar bread basket. This thing was loaded with blueberry coffee cake, jalapeno muffins and some crazy sorts of scones. All tasted awesome and our waiter joked to us about the occasions when a parent accidentally gives their child a jalapeno muffin. Hilarity ensues, at least for everyone that isn't the child or neglectful parent.
When the food arrived, I looked upon my burger in disappointment. Although the menu had made no mention of additional toppings on the burger, I saw that it had some sort of purplish lettuce on it and a big fat slice of tomato. I remedied the situation, while cursing Bobby Flay for creating such a monstrosity. Finally, the plain cheeseburger was ready for tasting. I bit in and my re-creation tasted pretty good. The meat was juicy and not too pink. The cheddar was oozing over the top of the burger and the bun, although quite large, didn't distract from the good burger flavor.
The fries were a great addition to the burger. Perfectly crisped with just enough Cajun spice. I guess I was just a bit disappointed that after all the work to get the burger correct, my Mesa Burger became a glorified cheeseburger. It would have been nice to have more burger options and I suppose I have been spoiled by Umami Burger. The Mesa Burger was good, but the price (although I wasn't paying, thanks girlfriend's parents!) of 16 bucks could have added up to a better unvegan burger.