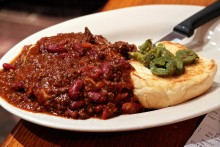 In the world of DC burgers, it seems that one name stands above the rest: Ray's Hell Burger. Originally conceived as a spot to bank on the discarded scraps from Ray's the Steaks, Ray's Hell Burger is on its third iteration, going by the name of Ray's to the Third. It's technically in Rosslyn/Arlington, Virginia and luckily so was I.
So if you were about to play in a basketball tournament the following day, which of the glorious burgers do you think you would choose? I went with the Brimstone Burger, which is probably the unlikeliest pre-basketball burger to be conceived. It was topped with "purgatory" chili, "Vermont" cheddar, "red raw" onions and "charred" jalapenos. I went with medium rare and of course without the onions. I also put in an order for a side of Macaroni and Cheese.
The burger came out looking like…well…not a burger. The patty was nowhere to be found and this was a surprise because I ordered the 10 oz. Big Devil size. With a little probing, I found it was hidden under the pile of chili and it was a perfect medium rare. There was no way I could even attempt to eat it with my hands, so I went to town on it with a fork and knife. It was, well, damn good (pun intended). The chili was a beautiful mix of beef and beans, the cheddar was as it should be and the jalapenos gave the thing a slight kick. Unquestionably it was a good burger, but I couldn't shake the feeling that I ordered wrong. Considering Ray's claim to fame was the use of steak trimmings for burgers, it might not have been the best idea to cover it in chili. I'm not complaining because it great, yet the nagging suspicion wouldn't go away.
As for the mac and cheese, it was just fine. But that's it. Cheesy, macaroni-y, but nothing above and beyond regular mac and cheese.
Ray's to the Third was pretty great. Even though I might not have ordered the best burger, it was probably the best chili burger I've ever had. The mac and cheese could use a little work, but as long as they keep churning out burgers like mine I don't think the sides are really a concern.