GBD in Washington DC's Dupont Circle quite literally stands for Golden Brown Delicious. This, of course, is quite a claim, yet considering the place specializes in doughnuts and fried chicken, I had to imagine they were doing something right. Unfortunately I didn't have my fancy camera to capture the place in all its glory, but that didn't stop me from ordering some delicious food.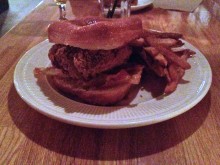 That food, by the way, is the Luther. By the halfhearted recommendation of my waitress, I went ahead and ordered what is described on the menu as thus: "Fried Brioche Doughnut Glazed in Maple-Chicken Jus, with Buttered Pecans, Slab Bacon and Fried Boneless Chicken Thigh + Side of Fries." Clearly this was made for me. I'd done the whole burger on a doughnut thing before, but this turned out to be much better, and in no small part because this doughnut seemed to be custom made for this sandwich. Instead of feeling like I was eating something just for the pure excess of it, I felt like I was eating something very deliberate. The combination of the slightly sweet doughnut with the savory bacon and fried chicken was beautiful. It certainly covered the brown and delicious that was promised.
The fries filled up the golden part of the equation and they were pretty good. Nothing particularly special, but perhaps that is because the Luther was just so special on its own.
GBD delivered on its name and while my picture does not come close to giving justice to the food, I can assure you it is worth grubbing on.