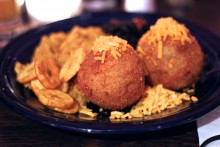 While on an old-fashioned quest for unique ethnic food, a couple of friends and I almost literally stumbled upon Salud in Lawrenceville, which purported to dole out Cuban food. Having somewhat recently brushed with Cuban food in Orlando I was excited at the prospect of some of their meaty eats and we decided to check it out.
To start, I was sad to find that vaca frita was not on the menu because it's pretty much one of the best beef dishes in the world. Instead, I settled for the Rellenos de Papa, which is basically potato balls stuffed with a type of pulled pork and topped with some shredded cheddar. It also came with plantains, beans and rice.
Upon arrival (which took surprisingly long), the balls brought me back to LA and a place called Porto's that makes awesome potato balls. These balls were somewhat larger than those at Porto's, and filled with plenty of meat for their size. The outside was nice and crispy, while the potatoes on the inside were soft and moist. The pulled pork was tasty, but could have used a bit more seasoning, which I think the shredded cheese was hoping to accomplish but didn't quite pull off. The plantains were pretty different from most that I've had before in that they were fried into an oily plantainy mess (which is delicious by the way). Instead, these were much lighter and not in a bad way.
Salud is a nice foray into Cuban food, but there were a few things that could have taken it to a much higher level. Nonetheless, if I find myself craving potato balls I will know where to go.