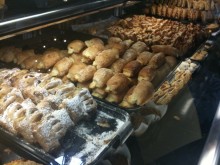 Typically, I'm not much a sweets guy. Give me a choice between cake and burger and I will always choose the burger. Well, almost always. Sometime ago, I was introduced to a Cuban bakery called Porto's in Burbank when someone brought me some of their delicious pastries. I fell in love instantly and ever since then I have had a dream to visit this place of pastry delights. In time, I learned that they were not simply a sweets shop and also messed around with the savory end of the taste chain. This only fueled my desire for Porto's even more. Finally, I got my opportunity to head there for lunch and went off full of excitement.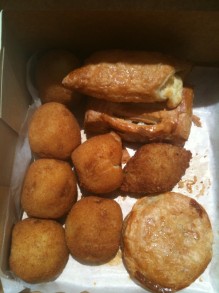 When we arrived, it wasn't easy to find parking. By the time we got ourselves a spot, I was one hungry unvegan, but I was only halfway there. I still had to make it through the line within. It was quite intimidating, but actually moved pretty fast. Within ten minutes I was at the counter and ready for some ordering. I picked up a potato ball (mashed potato filled with beef for 90 cents), a meat pie (puff pastry filled with beef for 75 cents), a chicken croquette (75 cents) and those were just the appetizers. I also ordered a Pan con Bistec sandwich (steak, onions, potato sticks, tomatoes and garlic sauce for 6.55) for my main course, without the onions and tomatoes. Then, while I was there, I decided to pick up a bit of dessert. I chose a guava and cheese strudel and a cheese roll. All this just for lunch and for just about 1 0 bucks. I was ready for one hell of a Cuban feast.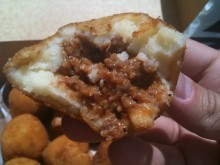 When everything was ready, I headed outside to begin consumption. I started with the potato ball and was glad I did. This ball was perfectly crispy on the outside and perfectly gooey on the inside. The beef was seasoned to perfection and the potato was mashed beautifully. I definitely could have subsided on these balls alone, but after this I was excited to move on to my next appetizer. This was the meat pie. In my unvegan world, you can't really go wrong with something called a meat pie. Porto's kept me truthful, because this meat pie didn't go wrong at all. Up against the potato ball, it didn't stand much of a chance, but it was a flaky, meaty and yummy addition to the potato ball. I suppose my only real issue with it was that it had a lot more puff than meat.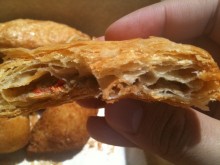 Finally, I moved on to my final appetizer, the chicken croquette. This thing had a nice, crispy exterior and a gooey interior. To be honest, I couldn't taste the chicken too well, but the creamy, thick inside was really tasty. A normal man probably would have been done eating by this point, but I was only getting started. Next, it was time for my sandwich.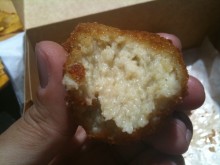 The sandwich was covered with delicious plantain chips, which I had to eat my way through before getting to the sandwich itself. By the time I got there, I was a little disappointed. The sandwich looked a bit bare (likely because of the lack of vegetables) and the potato sticks were the generic sort you can pick up at any grocery store. Nevertheless, I was excited to get involved with the sandwich. The steak was quite tasty and the bread was perfect, but the potato sticks felt a bit out of place at such a great place. They also seemed to have forgotten the garlic sauce. Or maybe it was somewhere in there, but beyond my sense of taste. Because of this, the sandwich felt a bit dry and just didn't seem up to par with everything else I had eaten.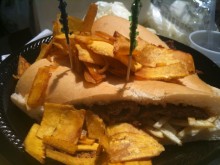 Finally, I moved on to the dessert of my feast. First came the cheese roll, which kind of like a canoli, but flakier and filled with a light, Danish-style cheese. It could also be called an orgasm for your mouth. Yes, it's that good. So good, in fact, that I returned to Porto's after work to pick up a dozen cheese rolls for a dinner party I was going to. Ok, the guava and cheese strudel was also delicious because I love me some guava, but the cheese roll is sure to please anyone.
So the moral of the story is that Porto's makes incredible savory and sweet pastries. The Potato Balls and Cheese Rolls are not to be missed. I could have filled up just on those and died a happy man. The other pastries were great, too, and while the sandwich probably would have stood out on any other menu, at Porto's, it really played second fiddle. Now I can't wait until I have another dinner party or some other excuse to get back to Porto's.