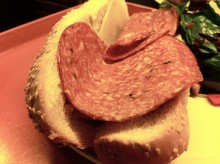 Long before there was a Disney movie called Pinocchio, there was a classic Italian story featuring that classic wooden toy. Pinocchio's (no relation) in Burbank is much more about those Italian roots than it is about the Disney story. And although that Disney classic has stood the test of time, there is one thing it certainly cannot do – feed you. That's where Pinocchio's comes in.
Like any good Italian deli, their sandwiches are loaded with cold cuts, meatballs and sausages. One of their sandwiches was called the Monte Carlo and although the ingredients weren't listed on the wall menu, I was quite curious about what could be found within. When I asked, the guy behind the counter said it was made with Italian cold cuts, provolone cheese and tomatoes. Despite the vagueness of his description, I couldn't say no to such a sandwich, but I did say no to the tomatoes.. I ordered a large and, once again staying true to its European roots, I found that ordering a sandwich to eat in rather than to go cost an extra $1.45. I was tempted to get it to go, but I was with a group and instead coughed up the $6.95.
In a strange twist, the sandwich came with a choice of two salads. At first I was disappointed because I wanted no such thing, but then I saw they had a pasta and a fruit salad. I asked for those and the man told me they cost more. So once again, I was disappointed. I got some spinach in the hopes that one of my eating companions would want it (no one did), and couldn't bear to pick another salad. Some combo.
Finally, with salad pushed away and sandwich in hand, I was ready to eat. At first glance, the bread to meat ratio seemed overwhelming, but I found out in the first bite that this light and fluffy bread would do nothing to distract me from the insides. As for the meat, I found there were distinctly three different cold cuts. One was unquestionably mortadella, while the other two appeared to be two salami varietals. One was thinly sliced and floppy, while the other may have been a soppressata. It was sliced thick, had a much smaller circumference than the other meats and was actually a surprisingly good addition to an otherwise more simple sandwich. Well, whatever the meats were, they were quite tasty. In fact, it was almost as tasty as the Godmother, but gets edged out by the fact that the bread at Bay Cities adds so much to their sandwiches while the bread at Pinocchio's is simply there as a carrying vessel for delicious meat.
Pinocchio's is a surprising little gem in the heart of Burbank. While I disagree with their "combo" options and their eat-in pricing, I will be back next time I need my fix of Italian sandwich wizardry in the valley.