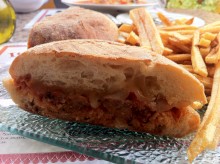 About a five minute walk from the apartment of my special lady friend at Pico-Robertson is a restaurant called Cafe Bella Roma. In the five years that she has lived there, she has never set foot in said restaurant, and since she is leaving the location next month, I was able to convince her to check it out. So if it sucked she could be like, "Good thing I'm getting out of here," but if it was awesome she could be like, "That's worth returning to my old stomping grounds for." Which one would it be?
Being call a cafe and looking a lot like one, I was a bit concerned about how full of a menu they would have or if it would just be a place for coffee and whatever it is Italians eat at cafes. Fortunately, I found a pretty full menu, ranging from panini to pizza to pasta. Despite this range, they didn't have a crazy amount of options for each, which was actually refreshing compared to a lot of Italian places. Since it was lunch, I decided to keep it semi-light and set my gaze upon their meatball panino. This came with said homemade meatballs, marinara and provolone for 8.95. It also came with a choice of fries or salad. I chose the fries and then sat back wondering how they would manage to squeeze meatballs into a panino.
Soon enough, my question was answered as I stared into a panino with meatballs cut in half. The thick and melty provolone was oozing out and although the sandwich wasn't massive, I was seriously looking forward to chomping in. And it was perfect. This panino had the perfect mix of meat, sauce and cheese. Plus, the bread was incredible. It was light on the inside and perfectly crisped on the outside. Yet, for it's lightness, the sauce didn't make it soggy at all. The meatballs tasted great and the whole thing ended up being just the right size.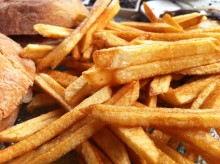 The fries were a decent addition to the sandwich and had really great flavor. Unfortunately, they weren't very crispy and couldn't hold a candle to their big brother, the sandwich.
Sitting there eating that sandwich almost made me feel like I was sitting in some delicious cafe just outside the Pantheon, except that when I looked up I saw cars rushing past on Robertson kicking the scent of exhaust into my nostrils. This place is a little gem in the heart of LA and definitely worth a visit for a relaxing Italian lunch. The price is reasonable and can definitely be considered one of those "That's worth returning to my old stomping grounds for" places.