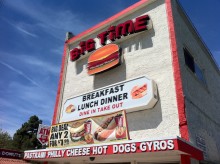 On the corner of Magnolia and Laurel Canyon in North Hollywood, there is a Taco Bell. Across from that Taco Bell sits Yum Yum Donuts. And just next to that Yum Yum Donuts is a burger joint called Big Time. Although it has the looks of a hole in the wall, Big Time occupies its own piece of real estate and has looked inviting to me ever since I began working in North Hollywood. Some of the best food in the world comes from places like this, so I was excited to find out if Big Time was one such place.
With a menu spanning more than just your average burger joint, Big Time has everything from gyros to tacos to omelettes and even salads (for the weak). But when a restaurant has a giant burger on its sign, it's hard to order anything but that. Of their various burger options, I chose the bacon avocado cheeseburger for $4.99 and upgraded it to a combo for $5.99. I noticed my coworker had further upgraded the fries from his combo into chili cheese fries for an extra $2.50 and I was not to be outdone, so I upgraded mine as well. Before completing my order, I started naming the veggies I didn't want on my burger, like lettuce and tomato. The woman quickly got the picture and wrote "no veggies" on her order pad, which made me happy.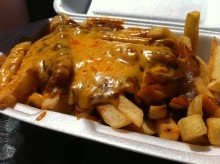 About five minutes later, my order was called and I snagged my food to bring back to work. The smell of the chili was pervasive on the short drive back, and once we arrived, I quickly set to work on tackling about six days worth of caloric intake. First I tried out the fries. Covered in melty cheese and aromatic chili, these somewhat thick fries were damn good. Impossible to eat by hand, each forkful had a delicious blend of potato, cheese and chili. The flavor of the chili was almost like a gravy but a little meatier. Nonetheless, it reminded me a little bit of poutine…well until I realized it was March, I was outside in 80 degree weather instead of covered in snow like I would be in Canada. The fries could have used a little more crisp to battle against the liquidity of the chili and cheese, but they put up a good battle and the full blend was nothing to complain about.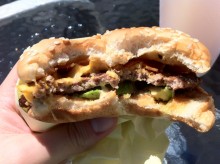 As for the burger itself, it was a step above your average fast food burger. The sesame seed bun was pretty generic and clearly was only there to contain the burger rather than add to it, while the burger itself was a thin, quarter pounder that had been charbroiled to a heavy brown while still retaining some good flavor. It was covered in good old fashioned American cheese, which had been melted to perfection. Say what you want about American cheese, but there is no denying it plays well on a burger. The bacon was deliciously crispy, while the avocado was nice and ripe and really vaulted the burger out of obscurity. As for the sauce, while it added a bit of good flavor, it also added some flavor that should never find itself in a burger. Pickle. Yes, in the sauce were tiny bits of relish that had to be picked out once discovered. There weren't many, but enough to bring some sadness in my life and make me never want that sauce again. It almost canceled out the glory of the bacon and avocado. Almost.
After total devourment, I was set to enter into an afternoon food coma. But I knew the food coma would be worth it, for while my production at work would suffer, my stomach production would proportionately increase. Someday I know my stomach will make its way back to Big Time, and when it does I will be sure to replace their sauce with the truest burger sauce of all: ketchup.