EDIT: Apparently this place can now be found at LA Live or LAX. Or both!
Evoking images of an old fashioned gas station for Ford cars, Ford's Filling Station in downtown Culver City actually has no actual relation to Henry Ford. It also has no relation to Gerald Ford, the former US President from the great state of Michigan. It does, however, have a relation to another Ford, Harrison. You see, Ford's is owned by Benjamin Ford, Harrison's son, and he also happens to be the executive chef. Last time I went to Ford's, which was before the unvegan blog came into existence, Benjamin himself actually came out to our table to tell us the specials. It was like the foodie version of meeting Harrison Ford.
This time, however, there was no Ford to be seen. This was okay, because I was not here to sight see, I was here to food eat. The menu looked just as I remembered it, and just like last time, I wanted a burger. Well, at least this was my second choice, because the $500 whole pig dinner needed to be ordered 8-10 days in advance. The burger seemed like a good backup plan. Ford's Pub Burger is made with ground angus beef and pretty much stops there for 12 bucks. However, for an additional 3 bucks, I added cheddar cheese and smoked bacon. The friendly waiter told me it also came with lettuce, onion and tomatoes. I had no need for such things and ordered without. Finally, I was given the option of fries or salad and chose the fries. Finally, I had it cooked medium rare.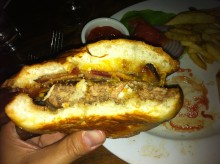 The burger came out and almost looked beautiful. Almost, except for the lettuce, tomato and onion sitting next to the bun. Fortunately these things hadn't been stuck inside the bun and causing problems, so I could just ignore them and get on with the eating. What I found was a damn good good burger. Clearly Ford took his cooking seriously and wasn't just riding on the name. The bacon was glistening and loaded on so thick it almost made me cry. And it wasn't just your garden variety bacon, this was some fancy shit. The cheddar was good, but was simply good for the cheesiness aspect. Yet, the cheese just seemed to be a great companion for a burger dominated by beef and bacon. The bun was also perfect, not adding much, but doing what had to be done.
This was definitely one of the best burgers I've had, and that's saying a lot. Even though it was something as simple as a bacon cheeseburger, it was a lot more than just a bacon cheeseburger.