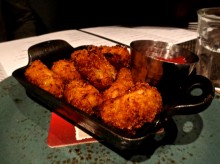 It might not quite be new anymore, but Public School 310 in Culver City isn't showing any signs of slowing down. With its novelty school theme, beer menu and interesting food menu, it is a place I definitely had to check out. So check it out I did, with a huge group that gave me the opportunity me sample a bit more than I usually would. This was certainly going to be a change from the food used to eat growing up in public schools.
We started with some apps, namely the Bacon Cheddar Tots. They came out looking all crispy and delicious, and turned out to be exactly that. The were crispy on the outside, gooey on the inside, and had a perfect balance of bacon and cheddar. The Sriracha ketchup was a nice touch as well. We also ordered their Crispy Speck and Eggs. This twist on deviled eggs included a nice, crispy piece of speck sticking out of each egg. I definitely appreciated the twist, since it introduced more meat into an already unvegan dish.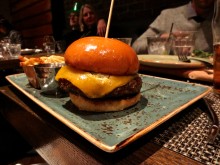 For my main course, I made I choice I have made many times before: a burger. They call it The Huntsman because it comes with huntsman cheese and since it also came with balsamic onions, tomato and bibb lettuce, I made sure my burger only came with that cheese. The result was a beautiful, albeit small burger. But it wasn't just about looks; this burger was packed with awesome flavor from the cheese and buttery bun. The ground beef was damn good too.
It also came with a choice of brown bag fries or red quinoa salad. Because I don't support the destruction of Bolivia's main protein source, I went for the fries (also because fries are delicious). They were definitely good, greasy fries, but not much compared to those tots.
While the Public School theme may seem a little bit gimmicky, the place has enough good food and drinks to keep things going. I should also mention that I have now been there twice (once just for drinks) and the staff there was fantastic both times. I shall be back, and recommend whoever you are reading this should follow suit.