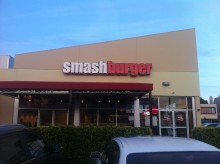 When the Culver City outpost of Famima!! shuttered, I lamented the loss. It was one of those places that I didn't get to very often, but always felt comfortable knowing it was there. Then I found out that it was to be replaced by Smashburger, a fast-casual burger chain out of Denver that specializes in smashing balls of beef into burgers as they cook, instead of getting them patty-ized beforehand. The premise isn't entirely novel, but that did not mean I wasn't excited.
When I stepped in, the woman behind the counter asked if I had ever been to Smashburger. I answered that I had not, to which she replied, "Welcome to your new favorite burger place." A little arrogant perhaps, but I already liked the personality I was getting from the place. To add more to that personality, Smashburger had a special burger just for their LA location. Although I had absolutely no interest in this burger, I must say I was a big fan of the concept and could see it in a light similar to how McDonald's changes its menu for different countries.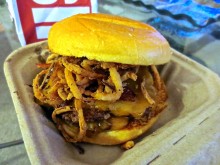 Alas, I ordered their BBQ, Bacon and Cheddar Burger. The name describes nearly everything it came with, but leaves out the haystack onions and the fact that it is served on an egg bun. I was a little uncertain about the haystack onions, but was told they were like onion rings. The result was a pretty tasty burger different from most fast-casual burgers except for Five Guys. What made it different is that their was no air of superiority. The ingredients tasted like quality, but there was no concern about making them look good. And there was certainly no attempt to seem any less greasy than fast food. I was definitely happy with the results.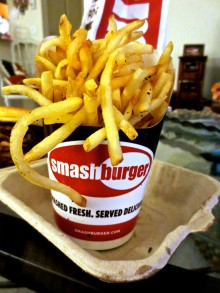 But I didn't stop there. I had to try their Smashfries. The ingredients for these guys were pretty fancy pants, being tossed with rosemary, garlic and olive oil, but again did not seem to abandon their roots in fast food. Better yet, they were tastier than fries I've paid double for at regular restaurants.
It is no secret that LA is saturated with burgers and might be a tough market to crack. But, while I slightly prefer Five Guys to Smashburger, I feel that the latter has a bright future in the Southland and can expect to see me again.