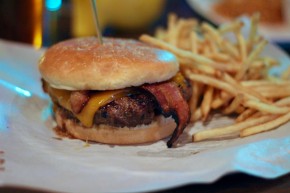 Yard House is one of those places that, before entering, you can't decide if you want to love or hate. On one hand, it has one of the biggest beer selections a bar can possibly have and bar food to go with it. On the other hand, it's more than a little bro-ish. Yet, the first hand was the dominant hand and I entered the LA Live location hoping for the best.
It didn't start off well, with my first two beers of choice being tapped out, but I did hit the third and enjoyed it thoroughly. The menu was bigger than I expected and had a grotesque Gardein (soy-meat) section. Nonetheless, I found the BBQ Bacon Cheddar Burger, which was topped with all that, plus garlic aioli. I guess BBQ Bacon Cheddar Aioli Burger didn't have the same ring to it. It also came with fries and I made sure that it didn't come with any unwelcome veggie toppings.
It arrived looking beautiful, but my buddy who knows me all too well pointed out to me that pickle slices were hidden amongst the fries. This was a travesty that cost the lives of these fries, but fortunately the burger was unaffected. The burger was actually pretty impressive and cooked to the medium rare that I had asked for. The bacon was perfectly crispy, the cheddar was thick and melty, and the two sauces worked together to bring out flavor. The bun was nothing, special, but did its job of keeping my hands relatively clean while eating.
Did any of the flavors change my burger outlook? No. But that is rarely the purpose of a BBQ Bacon Cheddar Burger. Yard House offered some more unique options, but I played it safe and was rewarded with something delicious. Perhaps it was a gateway to their pastrami, lamb or truffle burgers, but at the very least I wouldn't hesitate to stop in again (and hopefully next time they'd have some more beer and fewer pickles available).