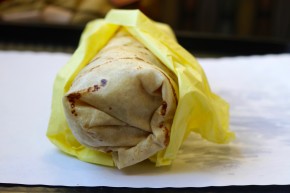 In Los Angeles, there are supposedly really only two breakfast burritos. One is at the Corner Cottage in Burbank and the other is at either of the two Lucky Boy locations in Pasadena. I visited the newer location on Walnut Street and vowed to take down the "Famous" burrito (it's literally the name of the burrito).
Like all good breakfast burritos, it came with scrambled eggs, hash browns, cheddar and a choice of meat. There was no need for any stupid vegetables in this burrito, which already made me happy. I opted for bacon and while the burrito took a surprisingly long time to prepare, I was shocked by the sheer size of the thing. By weight it actually was light compared to the bean and cheese burrito, but it seriously rivaled my upper arm both in length and circumference. Interpret that as you will
When I bit in, my mouth was flooded with a mix of all of the delightful ingredients. These were somewhat dry when mixed together, which is why Lucky Boy provides all burrito eaters with some tasty salsa. Yet, while all ingredients are wonderful, there was one that dominated the burrito. Sadly it was not the perfectly crisp bacon, cheese or egg. Yes, it was the hash browns and their dominance unquestionably diminished the quality of the burrito. Sure, there were a few rows in which the bacon took over (including the lovely photograph featured here), but it simply wasn't enough.
The sad fact is that if Lucky Boy were to drop the size of the burrito just by a bit and take some potato with it, this breakfast bomb could have easily gone toe-to-toe with Corner Cottage. Until that day, though, Lucky Boy will remain in the slightly lesser echelons of the burritoverse.