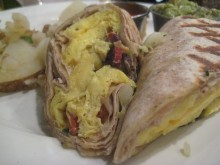 Every once in a blue moon, a restaurant comes along that you just can't pass up. Sometimes it's Taco Bell, and sometimes it's a place called Bacon in Scottsdale. Although clearly capitalizing on the current bacon trend, the name sounded great to me when the girlfriend's family suggested it. Since it was Father's Day, we expected a long line, so we called in advance and a table was ready for us by the time we got there.
We took our seats and dove right into the menu. Everywhere I looked, there was bacon, but not really any more extreme than a typical breakfast restaurant. It took a while to decide, but I ended picking the breakfast burrito. It came with egg, bacon, cheddar and pico de gallo with guacamole, sour cream and salsa on the side. I ordered it without that pico, since we all know that's just some fancy name for tomato and onion. Neither of those have any place in my burrito.
After ordering, we started waiting for our food. Then we waited even more. And more. And while the restaurant was full, it certainly wasn't packed. And then I looked at the TV. Golf. Ugh, I was ready to die. The biggest sporting event on the planet (The World Cup) was on TV and they couldn't even put that on while they made me wait?
Nonetheless, our food eventually came. The burrito arrived and I was surprised to see how small it was. Breakfast Burritos are meant to be huge and filling and with a place called Bacon, you expect to find something immense. Instead, it was not only small, but predominantly egg. There was bacon in there, but it wasn't easy to find. When I did find it, it was thick and delicious, but it was much easier to find some other things in there. Namely tomatoes and onions. I don't know if these were related to the pico or they just happened to items that were left off the menu, but whatever it was, it was no good.
As you can tell, Bacon was kind of a letdown. All of the bonus points they got for calling themselves Bacon were lost in the wait, the tomatoes, onions and lack of bacon. Although their bacon was quite good, it wasn't enough to carry the burrito or my breakfast.