EDIT: This location is closed, but there seems to be a couple other Uncle Sam's still standing.
On our way out of Arizona, the girlfriend thought it would be nice to visit a place of nostalgia for her so we could pick up some sandwiches for the road. The place was called Uncle Sam's and was so patriotic that they had water misters spraying all over the outside just to prove how America has conquered the desert. Also, because everything was red, white and blue. The general style and ambiance of the place reminded me of the USA Cafe in Lansing, Michigan that I used to frequent in my youth, so Uncle Sam's was a bit nostalgic for me, too.
The menu had some good-looking sandwiches, such as the Uncle Sam Regular, which came with 4 meats and cheese. The only trouble was that when I asked what meat it came with, the girl behind the counter had no clue. This was a bit frightening. I'll eat any meat, but I just like to know what it is beforehand. Instead, I ordered the "Whole" Pastrami and Cheese Hoagie, which was a whole $13.95. I thought that price was a bit much, but I figured this had to be a pretty special place. The hoagie came with lettuce, tomatoes, onions, spices and dressing. I got mine without the lettuce, tomatoes or onions and learned that the dressing was a sort of oil and vinegar.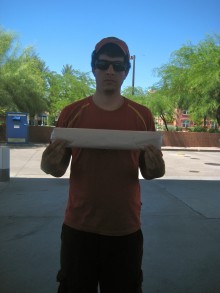 After about 10 minutes, my hoagie was ready, but this was no ordinary hoagie. In fact, it was a whole 18 inches long. That's what she said. Well, I guess that explained the price. I took the monstrous sandwich outside and ripped it open only to find that it was loaded with onions. This was very unpatriotic. I thought we lived in a country where we had the right to choose what terrible ingredients to leave out of a sandwich. Apparently not, but we do live in a country where you can complain about mistakes and get fresh sandwiches…which I did of course. So 36 inches later, we were ready to hit the road.
When I got the first chance, I dug into my sandwich. It wasn't just long, but also thick. The pastrami was thin-sliced and pretty tasty. At some points, I would bite in and hit and end slice that was just loaded with pepper, but for the most part, the meat was pretty good. The bread had a good crunch that gave way to a soft inside and the dressing was surprisingly tasty. The sandwich was sliced neatly into four 6-inch sections, which sustained me through the long drive in the desert.
Uncle Sam's was definitely an upgrade from fast food places like Subway and Quizno's, and although it wasn't quite at the level of Bay Cities and Capriotti's (partially due to sticking me with onions), it's hard to beat 18 inches of meat.