After a fruitless attempt to grab happy hour down in Scottsdale town, we consulted a nifty little thing called NoWaitApp and found out we could get seated immediately at The Vig in McCormick Ranch and made our way there. The Vig seemed to be a combination of trendy and sports bar-esque food that was right up my alley. So far up, in fact, that I had to consult the waitress before choosing what to order.
She pointed me towards The Prime Vig Dip and I'm glad she did. This sandwich is made with sliced beef (supposedly medium rare), smoked gouda, grilled onions and chipotle mayo on a pretzel bun, plus au jus. I ordered without the onions and picked fries for my side.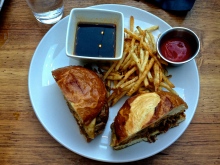 I wasn't expecting anything too special, but I was wrong because this turned out to be a damn good, if not classic, dip. I was concerned that the pretzel bun might not absorb the au jus very well, but the opposite was true. I wasn't sure if the meat would come out to a medium rare and although it didn't, it was far from dry. And as always, gouda was a great choice. The chipotle mayo was entirely unnecessary, but it at least did not distract from the finer components of the sandwich. The fries were pretty good too, and while there weren't a lot of them the sandwich was plenty filling.
The Vig seems like the kind of place that excels execution. The menu items might not be cutting edge, but mine was well-crafted and the type of meal to make me want to come back for more.