As one might expect, Phoenix is known for having some delicious Mexican food. One of these supposedly good Mexican spots is Tee Pee, which opened in 1958 and predates approximately every resident of the state of Arizona. Having been around since forever, Tee Pee not only has a wide variety of Mexican food, but also some American mixed in. None of these is more American than the Cheese Crisp.
The Cheese Crisp appears to be native only to Arizona and could easily be called an open-faced quesadilla or Mexican pizza. It's literally cheese melted on a tortilla and sometimes with green chile thrown on top. It's far from impressive, but is a simple enough dish that if I were raised on it, I suppose I could see being nostalgic about it. Then again, it would take about 7 seconds to whip up at home to battle that nostalgia.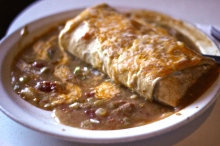 As for the rest of my meal, I ordered their Three Way Mixed Burro. A Burro is, well, a burrito by another name. The three way simply means green chile beef, red chile beef and beans. There is literally nothing else in the burro, which makes an unvegan like me happy. They also offer it wet/enchilada style which I jumped on. It was certainly a thing of beauty when it arrived. Perfectly wet, perfectly cheesy and just the right size. I dug in and was happy with what I found. There was a nice mix of meat in there and great flavor to go with it. There was nothing flashy or exciting; just a classic delicious burr(it)o.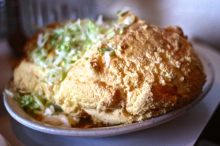 Over to my right sat my wife, who did order something that looked super flashy and crazy. It was the Chili Relleno, which is typically just a stuffed pepper. Not so at Tee Pee, which where the dish is encased in a gigantic egg souffle. It looked good aside from all the veggies it came with, and I would have been disappointed if no one had ordered such an impressive-looking dish.
Tee Pee is a mainstay in Phoenix, and with good reason. The place churns out simple, delicious Mexican food and has no need to add any special flair to it. Plus, having a frightening egg souffle chili relleno doesn't hurt.