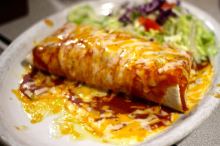 When on a quest for more food in Phoenix/Scottsdale, we unsurprisingly found ourselves at another Mexican restaurant. This should not come as a surprise because nearly every restaurant in Phoenix is Mexican, but this was another classic: La Fonda Del Sol. The name means something or another about the sun, and once again I found myself face-to-face with burros instead of burritos.
I once again ordered a burro, this one with just the red chile sauce and carne asada. Just like any good Mexican spot, I could get it wet/enchilada style and jumped on that.
Unbeknownst to me, the burros at La Fonda also came with a side of some sickly-looking salad. This was unfortunate because of couple of the shredded pieces of lettuce made their way onto my burro, but I fought them off mightily. What I found was a nice burro with solid flavor, construction and balance. It was the kind of burr(it)o I often found during my days living in LA that were great to have in the neighborhood, but not necessarily worth going out of the way for. It's no knock on La Fonda Del Sol, but a general commentary on the fact that there is just so much Mexican food available in Phoenix. Nonetheless, there is no doubt that I am glad to have found my way to La Fonda.