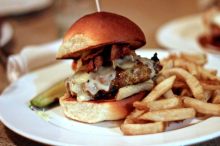 After landing in Phoenix, the wife and I were in need of some food. She likes pickles and I like pigs, so we stopped at a place called Pig & Pickle. With a name like that, you could probably guess that it was trendy, hipsterish and had some sort of deviled eggs. Well, at least the first two are right, but I suspect deviled eggs will make their way onto the menu at some point. The menu had a nice variety of piggy items and even a few that weren't if that's not your thing.
In choosing my own piggly dish, I ended up ordering the Apocalypse Sow because of the waiter's recommendation. This was a house ground pork burger topped with bacon, white cheddar, grilled onions and aioli. I got mine without the grilled onions and held onto the fries that come with it instead of upgrading.
As I should have suspected, the burger came with an ugly pickle spear. Of course, this was not listed on the menu, but was splattered across the top of the menu because of the restaurant name. I partially blame myself for this oversight, however I don't think the non-pork dishes on the menu should all come with pork without telling the eater.
But I digress, Apocalypse Sow was certainly a unique burger, but the place managed to make it without an overwhelming pork flavor. I think it's because they put a couple different types of ground pork into the patty to maintain a degree of balance. Whatever it was that they did, it was a nice sandwich and a burger I would have again, so it couldn't have been too gimmicky.
Nonetheless, I left believing the restaurant would be a whole lot better if it were simply called "Pig."