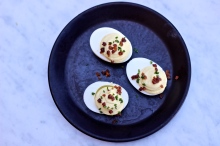 On the way out of Scottsdale, we made our way to a place called Culinary Dropout. I assume the allusion is to dropping out of culinary school, which might not be the best allusion. Yet, it can certainly be trusted as it is a part of the Fox Restaurant Group, which has basically taken over the Valley of the Sun. One might expect a place like this to have food way outside of the box, and while some things are unique, there aren't really any headscratchers on the menu. This was fine by me as long as the execution was great.
So we started out with an order from the Snacks part of the menu: Prosciutto Deviled Eggs. At only $3 bucks, we figured we couldn't go wrong and we did not. These eggs were literally exactly what was stated on the menu, with the prosciutto kind of taking the form of bacon bits. It was delicious, but certainly not a game changer in the world of eggs.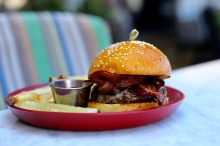 For my main course, after a long conversation about not wanting vegetables, I got the Pub Burger. It was topped with havarti, bacon and BBQ sauce. I made sure that it didn't come with any vegetables and stuck with the fries that came on the side. I ordered medium-rare, but was shocked to find the burger arrived with a pickle. This was absurd to me considering I had thought I was on the same page as the waiter, but apparently not. Perhaps this was the reason for dropping out of culinary school?
Nonetheless, the burger turned out to be pretty good. The bacon was especially tasty and the burger was cooked to a perfect medium-rare with a nice grind to it. It was again a perfectly-executed (aside from the pickle) dish, just strangely not the most creative.
Culinary Dropout didn't seem to be breaking any barriers, but damned if they don't know how to prepare great food.