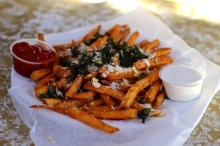 In the rundown city of Tucson, Arizona there is an oasis known as the University of Arizona. Within this oasis is a spot called Frog & Firkin, which my wife remembers fondly from her days as a wildcat. So, with only one meal to eat we made our way to that oddly-named "English" Pub to see if they had anything to offer beyond nostalgia.
We took a seat outside on their patio and began our meal with one of their fries for an appetizer. You see, Frog & Firkin has a selection of fries with toppings, each named after the most prominent color in the toppings. It was odd to see no poutine equivalent or chili cheese, but Tucson is a damn hot desert, so I suppose such foods wouldn't do so well. We ended up with the White Fries, which were topped with fresh garlic and herbs, parmesan, and mozzarella. They came with ranch and ketchup to dip and were quite delicious. The fries were a nice, crisp brown with a soft interior and the toppings went well together.
For my main course, having had perhaps too many burgers in the past couple of days (crazy, I know), I decided to go in a different direction. No, I didn't do something stupid like a salad, but I got a sandwich called The Hen House. This was made with a chicken breast, bacon, aioli, cheddar and a sliced apple on top inside a hoagie-type roll. It came with a choice of sides, so I went with onion rings because I had already eaten a few too many fries. The sandwich turned out to be pretty good. There was nothing fancy about it, but it was nicely balanced and the kind of thing I would have certainly appreciated in college. The onion rings were pretty good too.
Frog & Firkin was a nice little stop in my tour of Tucson. The fries were a good specialty that I'd go back for and while the sandwich wasn't a game changer in any way, it was undoubtedly a good college-style spot.