There are few things in this world that go better together than football and wings. So when I was taken to Zipps Sports Grill in Scottsdale to watch Michigan play some football, I decided that wings were the only things fit to go in my mouth. Well, wings and fries. Zipps offered a few different wing flavors, and I ended up going with one that looked pretty interesting – Golden Spicy.
The golden part referred to the fact that the wings were sweetened, while the spicy meant…well…spicy. The waitress warned me that they were quite hot, but I figured I could handle them and ordered a side of fries to either have more food or a heat buffer depending on how hot they would get.
They turned out to be pretty damn, hot, but they were also pretty damn delicious. I loved the way that the sweetness played with the spiciness and almost teased my mouth into thinking each bite would not burn my tongue. The heat turned out to be more than I expected, but with a tall glass of water, I was definitely able to tackle the wings. I should also mention that they came with celery, and this was not mentioned on the menu. This didn't impact the wings, but was certainly a waste.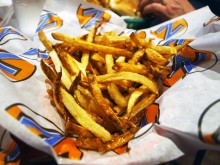 The fries were interesting for a sports bar and seemed to be made in-house as opposed to coming from a frozen bag. The result was that the fries had good taste, but a lot of them ended up more soggy than crispy. The ones that turned out well were great, but it was rough dealing with a bunch of duds.
For the wings, I would definitely go back to Zipps. They did a great job introducing an element of sweetness to the wings without sacrificing any of the awesomeness that makes buffalo wings such a perfect culinary creation. I'm not sure that I'd get the fries again, but Zipps has a couple of other sides that could probably hold their own.