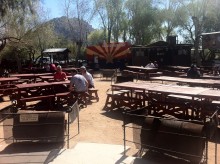 "My Other Ride Has Tits," says the back of a man's bright orange muscle shirt. That's how you know you're in a special part of Scottsdale, a place where Arizona cultures collide. It's called Greasewood Flat and the parking lot is filled with Lexuses and motorcycles. Suit-types and the type that wear the shirt above bump elbows here to get a bite of their famous burgers. It looks more suited for cowboys, but maybe we, a bunch of guys out to lunch before my wedding, are just the cowboys of the new old west.
To draw in such a diverse crowd, I figured their burger had to be damn good. No. Dayyyyaammmn good. I was surprised to find that like Carlsbad Tavern, Greasewood Flat was into the whole New Mexico green chile thing, so I ordered their Bacon Green Chile Cheeseburger. That's right, this time it came with bacon, and also lettuce, tomato, onion and pickle that I ordered without. Oh, and chips.
The result was a burger that still included all of these things, but at least on the side. It was also entirely different from the green chile burger I had eaten two days before. It came on a kaiser roll-like bun, with a big ole green chile on the patty rather than sauce. It was certainly a tasty burger, with the bacon adding a delicious touch. Yet, I have to admit it was a bit dry and did not suffer from the inclusion of ketchup.
For the scene, clientele and setting alone Greasewood Flat is worth a visit. Their burgers are anything but fancy, yet unique in their own right. After having a couple of these green chile burgers in a couple days, though, I have to say Carlsbad Tavern wins out in terms of sheer taste, even without bacon. With that said, Greasewood Flat is just a cool place that I am certainly happy to have eaten at and would return to for an order of "Ridiculous Mix of People, with a Burger on the Side."