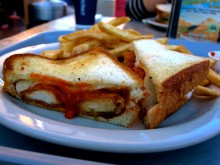 They say you either pay for the food, or you pay for the view. Or at least I do. It means that restaurants with a great view often have pretty bad food. It might not always be the case, but we definitely put that theory to the test at Canyon Breeze in Sedona. Without a doubt, it had an awesome view, but the food is another story entirely.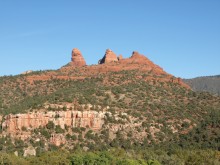 I decided to order the Spicy Chicken Sandwich, which was fried up, then covered with hot sauce and mozzarella cheese on Texas toast. It came with fries as well and clocked in with a price tag of eleven bucks.
I'm not sure about you, but when I think of Texas toast, I picture huge slices of bread because, well, all the Texas toast I've ever seen has been that way. Canyon Breeze had other things in mind, though, delivering a sandwich on thin pieces of white bread. This would be cool with me if the insides were delicious and huge bread would have an adverse effect, but the insides didn't offer much as a trade-off. The chicken was dry and overcooked, and although the hot sauce did its job, it wasn't anything special.
So in this case, my lunch money paid for the view, but here's the thing: Sedona is packed with incredible views. Seriously, driving there is goddamn beautiful and there's an impressive display of red rocks everywhere you turn. For free. So why pay for a view that comes with meh food? Unfortunately, I have, but only to help you save yourself the trouble.