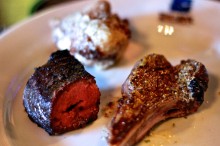 After a summer spent in beautiful Western New York, it eventually came time to return to Pittsburgh to finish out my MBA. Per usual, the first thing I wanted was meat, and lots of it. Without Korean BBQ or Fogo de Chao (that I know of), I turned to Texas de Brazil for my all-you-can-meat fix. Having never been to one of these, I expected much the same as any churrascaria. What I found was, well, yeah…that.
After some time to check out the salad bar, which was fortunately filled with such items as cured meats, cheeses, yummy potatoes and more, the meat flooded our plates. There were staples like picanha, lamb chops, sausages, filets and assorted meats wrapped in bacon, but there were also a few more unique options. These were the ribs, parmesan-crusted pork loin and garlic picanha. The garlic picanha was by far the best thing I had at Texas de Brazil, but since variety is the spice of life I also really enjoyed their leg of lamb.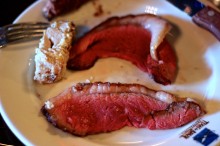 In general, I found the pork dishes to be a bit dry and the regular picanha strangely disappointing compared to the rest of the churrascarias I've been to. Perhaps Texas de Brazil was more concerned with the garlic variety of the picanha, which is quite all right with me. Also, while the sausage was fine, there was really no need to fill up extra stomach space when I could instead use it for lamb chops.
On top of all this, it was restaurant week so we got some desserts. The options were Bananas Foster Pie and Key Lime Pie. My wife and I each got one, and this was a good choice because both were delicious. The Bananas Foster was essentially like a banana cream pie, which is my favorite dessert in the world. And the Key Lime was nice and tart, just how I like it.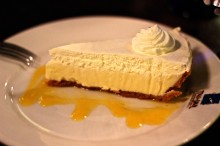 Of course, I would have rather filled that excess stomach space with more meat, but somehow the stomach has a way of preserving space for dessert when nothing else will fit. Texas de Brazil served me well, and although it might not be the best churrascaria in the world, it did its job. Plus, it was no slouch in ensuring I woke up in the middle of the night with the meat sweats. Worth it? Clearly.