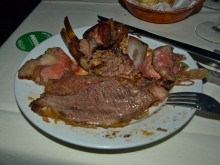 I have a confession and this may come as a surprise to all of you: I love Brazilian BBQ. Yes, I know it's shocking that a menagerie of meat such as Brazilian BBQ could be one of my loves, but it's true. Unfortunately, this isn't an easy love. Firstly, it ain't cheap like Korean BBQ, which is equally meaty. Secondly, I can't go without eating an insane amount of food. Sorry, it's just how I work at such things, which means my body usually needs a fair amount of recovery time before going back. But, when I saw a sweet Travelzoo deal for Libra in Culver City, at least my first problem with Brazilian BBQ was taken care of.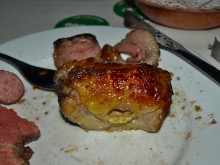 Upon entering, we were immediately seated and our head waiter came by to see if we knew the ways of churrascaria. We assured him that we did and set out to peruse the salad bar. This thing was vast and had surprising options like mac and cheese to go with the more typical items like yucca and beans. Per my usual, I avoided the entire salad bar (save for a little cheese and salami) as I planned on filling up completely on meat.
I shan't get into each individual meat we were offered, but I will certainly highlight a few. In fact, one of the first things we were served turned out to be one of the best – garlic beef. This stuff was perfectly cooked to a medium rare and had just the right amount of garlic to add flavor but not so much to frighten off the ladies/vampires.
Another highlight was their picanha steak. As with every other churrascaria I've been to, the waiters referred to this as the house special and as always it really was special. I don't know what they do with it other than lightly season it with salt, but it was as good as I expected it to be and I definitely went back for seconds.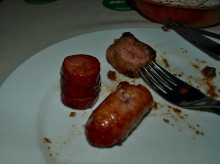 One thing that was surprisingly good was their smoked sausage. This stuff just melted in my mouth and was packed with smokey awesome flavor (insert sexual innuendo here). It was sliced super thin (end sexual innuendo here) and completely blew away the other sausage offering, which was the Brazilian sausage. I tend to think based on the restaurant we were at that both sausages were Brazilian, but this full, unsliced Brazilian sausage was a poor comparison to the smoked.
I could go on about the chicken hearts, lamb chops, pork ribs and beef ribs, but that would be pretty long-winded. Just know that pretty much everything was awesome. Yet, one of the most awesome things of all wasn't meat at all. It was their grilled pineapple, which I experienced for the first time at M Grill. Here at Libra, it was no less amazing. Sprinkled with cinnamon and sugar and packed full of pineapple juice, my taste buds jumped for joy.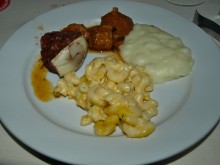 Oh, and I won't forget about the salad bar, in which I certainly saved room to dabble. The best thing I found over there was a pan full of chicken adobo. Chicken adobo is a big deal in just about every Latin-influenced county and interestingly enough they all taste different. And also interesting is that they are all delicious. This stuff had a great taste to it and was just moist, tender and delectable.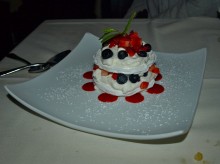 Finally, the Travelzoo deal included a dessert and we opted for the berry meringue. This was a wise choice because it was not only light, but also worthy in taste. The strawberries and blueberries were fresh and perfectly ripe, while the whipped cream was simple, unsweetened and a perfect companion to the meringue. It was a great way to wrap the meal up.
In closing, go to Libra. If you eat meat, you won't regret it. If you don't eat meat, one sweet look at the waiters' skewers will convert you. Plus, even the regular price of the place is a whole lot cheaper than a lot of churrascarias.